Manicures Pedicures in Boca Raton, FL
Salon Sora has one of the finest nail salons in Boca Raton, FL.  We offers impeccable, high-quality manicures and pedicures. Our professional and experienced staff will pamper your during your stay. Enjoy the best!  Make an appointment in our penthouse level salon.  
As your color is processing you can relax on the rooftop terrace or visit one of Salon Soras' talented manicure and pedicure technicians. Treat yourself to a Salon Sora pedicure and you'll wish you had done so much sooner. And just as with your hair, we use only the finest products on your hands and feet. Products such as Eminence Spa, CND Almond Spa, QTica, Young Nails Acrylic System, OPI Absolute, Young Nails Gel System, OPI Gel Polish, IBD Gel Polish, Cuccio Gel Polish, and LCN Natural Nail Boost Gel.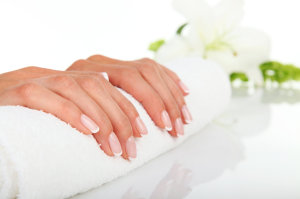 Once done with your initial treatment our Young Nails Acrylic System features a super fine acrylic powder which enables your technician to achieve a natural, "non-bulky" finish with maximum hold and flexibility. Color your nails any way you would like and as with all our nail products there is absolutely no MMA.
OPI Absolute is another acrylic system that uses a fine moldable powder. This quick setting, fast drying product has minimal scent and also no MMA.
Young Nails has quickly become the best self-leveling gel system. Natural, flexible, strong nails are achieved through using this system. Young Nails will not damage the natural nail. It in fact helps promote strong nail growth. The ph balanced, non-acidic primer provides maximum adhesion and will not promote "lifting" even in high temperatures.
The Gel Polish used at Salon Sora is LED cured. With LED curing there is no UV damage to your skin or nail plate. Removal is quick and easy and these polishes will not dry out your nail bed.
We take great pride in offering you the finest products and are certain that all of our nail technicians will exceed your nail care expectations.
Manicures and Pedicures in Boca Raton, FL at Salon Sora
Stop in today to experience one of the best manicures and pedicures in Boca Raton!
Salon Sora is your full-service Manicure and Pedicure Salon. Offering specialized hair, nail and skin treatment services for Men and Women in Boca Raton
MILAN BUILDING – PENTHOUSE LEVEL 1675 N MILITARY TRAIL #700 BOCA RATON, FL 33486