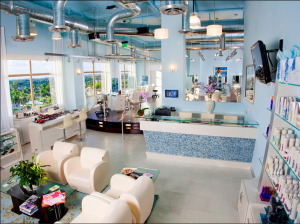 SALON SORA IS ONE OF BOCA RATON'S SWANKIEST SALONS AND IS TRENDING IN EVERY CATEGORY FOR A GOOD REASON…THEIR SIMPLY AWESOME! AT FIRST GLANCE YOU'LL BE STUNNED WITH THE BEAUTY OF THIS BOCA RATON HAIR SALON BUT AFTER FURTHER INSPECTION YOU'LL BE AMAZED AT THE DETAIL AND THOUGHT THAT WENT INTO THIS LUXURIOUS PENTHOUSE STUDIO SALON! FROM BEAUTIFUL LEATHER CHAIRS IN THEIR LOUNGE AREA TO PRISTINE WHITE TILED FLOORING, BLACK MARBLE WITH CHROME ACCENTS AND COOL COLORS AWAIT THEIR UN-EXPECTING GUESTS….IN SHORT, THE SALON IS DEFINITELY AN ESCAPE FROM THE ORDINARY AS WELL AS THE BOMBARDMENT OF DAY TO DAY LIFE ACTIVITIES.
AND ALTHOUGH SEEING IS BELIEVING SO THEY SAY, THERE'S REALLY NO OTHER WAY TO DESCRIBE THE FEELING YOU'LL GET THE MOMENT YOU WALK THROUGH THE DOORS…THE SMILES ON THE STAFFS FACES AS WELL AS THE CLIENTELES, COUPLED WITH THE DECOR SHOULD LEAVE YOU BREATHLESS…BUT…IF ALL THE ABOVE WE'RE NOT ENOUGH WITH CLOSE TO 400 POSITIVE (5 STAR) REVIEWS THE CRAFTSMANSHIP THE STYLIST BRING TO THE TABLE…LETS JUST SAY….THEIR SIMPLY AMAZING! WOMEN AND MEN ALIKE WILL AND DO TRAVEL FROM AFAR JUST TO COME TO THIS STYLISH SALON SIMPLY ON REPUTATION ALONE, BUT IN REALITY FOR THE EXPERTISE AND CARE THEY KNOW THEY'LL RECEIVE FROM THE PERSONNEL ONLY AT SALON SORA.
SO WHEN YOUR FINALLY READY TO GIVE UP THAT OLD TIRED SALON THAT'S TREATING YOU LIKE A NUMBER INSTEAD OF A VALUED CLIENT COME TO SALON SORA TODAY…YOU'LL BE AMAZED AT THEIR SERVICE AND THEIR PRICES.