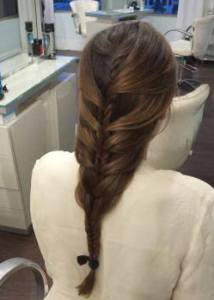 LOOKING FOR SOMETHING DIFFERENT? PERHAPS SOMETHING OTHER THAN A SIMPLE BLOW DRY OR PONYTAIL? WELL SALON SORA HAS EXACTLY WHAT YOU ARE LOOKING FOR! AT SALON SORA BEAUTIFUL BRAIDS ARE ALL THE RAGE. FISHTAIL BRAIDS, WATERFALL BRAIDS, SIDE BRAIDS, CROWN BRAIDS, UP-DO BRAIDS. WE LOVE BRAIDS AT SALON SORA!
"I PERSONALLY FEEL THAT A BRAID MAKES A STATEMENT WHEN A WOMAN WALKS INTO A ROOM," SAYS FRANK MARINO, CO-OWNER AT SALON SORA. "BRAIDS, ESPECIALLY SLEEK, ELEGANT BRAIDS ADD AN AIR OF SOPHISTICATION TO A WELL DRESSED WOMAN. THEY ARE SO MUCH MORE CHIC THAN A SIMPLE BLOW DRY. IN FACT WE HAVE SEEN BRAIDS ALL OVER THE RUNWAYS OF PARIS AND MILAN AS WELL AS ON THE RED CARPET RIGHT HERE IN THE U.S.A.!"
AT SALON SORA THERE ARE MANY STYLIST THAT WOULD LOVE TO CREATE A BRAID THAT IS SUITED JUST FOR YOU. DO YOU HAVE AN AFFAIR TO ATTEND AND DON'T KNOW HOW TO WEAR YOUR HAIR? THEN FEEL FREE TO COME BY AND HAVE A GLASS OF WINE OR CHAMPAGNE AS YOUR STYLIST CREATES THE PERFECT BRAID TO SUIT YOUR MOOD.